This page traces the Keirven family from Ireland, through the UK to Elizabeth KEIRVEN (Edwards) in Australia. The following figure shows the family tree back from Elizabeth.
Keirven's In Ireland
The earliest Kierven's we can trace in Ireland was Martin Kirwan born sometime around, or before, 1815. At some point he married Sara (surname unknown) and presumably came to England sometime at or after the Potatoe Famine. I'm still investigating this. Forgive the following narrative; when (if) I get all the pieces sorted out I'll make it more storylike and less technical analysis.
Patrick KIRWAN was born to Martin and Sarah ("Martini and Sarae Kirwan" on LDS records) in Roscommon, Ireland in Feb 1843. He was baptised in the Church of St. Brigid, Four-Mile House, Kilbride Parish, Co. Roscommon by the Rev. Andrew Quinn on 23rd Feb 1843. His parents are listed as Martin and Sarah Kirwan, with sponsors of Robert Kirwan and Joanna O'Malley. I expect that Robert was the brother of Martin. I cannot ascertain the relationship of Joanna O'Malley, but she may have been related to Sarah.
There was an earlier birth to Martin and Sarah, also named Patrick, in Sep/Oct 1836, baptised on 2nd Oct at the same church. It's reasonable to assume this child died early and the latter Patrick was named after him. This earlier birth date lines up with the dates on UK census records (1871 & 1881) so perhaps he was confused by the date. His Memorial Card of 10 Feb 1887 shows him as 43; this ties him to the later birth date.
The Robert KIRWAN listed on Patrick's baptism certificate, and his wife Maria McDermott, also had a son (Patrick) baptised at the same church on 11 Feb that year. There was also another Patrick KIRWAN born in Kilbride Parish, Co Roscommon, to Peter (Petri) and Bridget Ryan in Feb 1846. It is reasonable to assume that Martin, Robert and Peter were brothers (possibly in that order of birth). If they were following Irish convention at the time and these were their first children, then their father was also called Patrick. Robert and Maria had atleast three children baptised at the church; Patrick (Feb 1843), Catherine (May 1844) and Martin (Nov 1846).
If this is the case, the family tree for the Kirwans in Kilbride Parish, Roscommon, at about the middle of the 19th century is:
Patrick Kirwan & unknown wife

Martin Kirwan & Sarah ????

Patrick (b. Oct 1836) – died as infant
Margaret (b. Jun 1839)
Patrick (b. Feb 1843) – the descenant we're following
Mary (b. Nov 1845)
Catherine (b. Aug 1848)

Robert Kirwan and Mary McDermott

Patrick (b. Feb 1843)
Catherine (b. May 1844)
Martin (b. Nov 1846)

Peter and Bridget Ryan
There may have been female siblings to Martin, Robert and Peter (with children) but I can't find any other Kirwan records for Kilbride parish.
Four-mile House, is the heart of the Kilbride parish on the main road from Roscommon to Boyle, approx. four miles from Roscommon Town. It is a small farming town in the north-west of Ireland. The church, the Churchof St Brigid, was built in the 1830's. There was not much there then, and today is it still a small township consisting of the church and not much else.
Patrick's wife, Margaret TOBAN (or TOBIN), was also born in Ireland about 1845. They married in Northumberland in 1866. So they must have arrived from Ireland, possibly together, before that. Other than the aforementioned Kirwan's, the marriage certificate shows Margaret had a father Michael Toban (Tobin?). I'm still investigating where/when they came from.
Given that the last child of Martin and Sarah was born in 1848, and there's no record of Martin in the Griffiths records for 1857/58, it's same to assume he emigrated with his family sometime between 1848 and 1857.
Keirven's in Northumberland
There were three generations of Keirven's in Northumberland, beginning with Patrick and Margaret. A family tree of the descendants of Patrick and Margaret can be found here. There were many Irish families around Walker at the time. Many migrated from Ireland, to Glasgow looking for work. When none was found, they were shipped off by train to Newcastle and Liverpool. This is the most likely if they sailed from Irelands northern ports. If they had gone east to Dublin or Belfast, they may have entered via one of Englands north-western ports. and gone directly to Newcastle, it being the largest place of work in the area.
Patrick and Margaret Keirven
Patrick and Margaret (Toban) married at St Anthony's Catholic Church (St Anthony of Padua RC Church) on 16 June 1866. The church was very new, the priest Fr James Foran, was the first parish priest there in 1860. Neither could read or write, so an X marked their signatures on the marriage certificate.
By 1871 they were settled in Walker, Northumberland (just east of the centre of Newcastle upon Tyne). They had four children; Johanna (b. 1871), James (1878), Joseph (1882) and Martin Patrick (1883). In 1881 they were in Fisher St, Walker. This area is pretty desolate now with a few factories and the remnants of the shipyards on the river (Tyne) side of the road. In the latter part of the 19th century, there was a block of houses on the north end of the road close to the shipyards that lined the Tyne (on the other side of Fisher St).
One of their sons, Michael, died in May 1877 (approx 18 months old) of Menginitis. Their address at this time was Marys Place, Walker, a little further south but still close to the Tyne.
Life was pretty tough for the working class at that time. Church records show that there was an enormous amount of poverty in the area with children sent home during snow storms on account that they had no shoes. The Pastor regularly remarked that Parishioners should welcome those who have no decent clothing, just as Jesus was born in a stable. Also there was a lot of drunkeness at the time. It is regularly commented upon that "Parishioners were drinking strong beer causing sinful behaviour".
Patrick worked on the shipyards like most people in the area. There were a number of shipbuilders in the area, including:
Charles Mitchell & Co's, Low Walker (1852 – 1882 (merged with Armstrong's))
Dobson, William & Co. Ltd., Walker (1883 – 1934) – this yard was down near Wincomblee Rd and is unlikely to be where Patrick worked.
Armstrong-Whitworth's High Walker Naval Yard, Walker (1882 – ?)
He may have worked in the Mitchell yard, however most of the Mitchell employees lived in Mitchell St. He gave his occupation variously as: Labourer (1866), "Holderup" (1871), Boilermaker (1877), Shipyard Labourer (1878), Labourer Shipyard (1881), Boiler Maker/Plater and "Holderup at Shipyard" (at death). A Holderup is the person that holds the rivets in place with a heavy hammer. So he had a mix of skilled and unskilled positions over the years and may have drifted from yard to yard.
Patrick died in 1887. In 1891 the family was living at 57 Victoria St (this street no longer exists). Then in 1901 they were living at 74 Church St in Walker. Church Street was the "High St" of Walker; "it was a very busy street with lots of shops, candle makers, repairers, bars and these kind of establishments as well as housing". Many of the buildings along it were destroyed in the late 60's/early 70's when new high-rise housing (I assume council estates) was built. At this time the family consisted of Margaret (55), James (23), Joseph (19) and Martin (17); Johanna was also around but not at the family home at the time of the census.
James and Isabella Keirven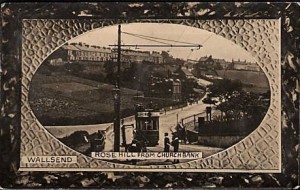 In Nov 1904 James married Isabella SNOWDON in Willington. His occupation was given as boilermaker. Their address was given as 1 Rosehill Gardens in Willington. The postcard shown here is looking along Church Bank towards Rose Hill. There's a better picture here.
They had three children; Johanna (b. 1905), Elizabeth (1907) and George (1910). At the birth of Elizabeth they were living in Wallsend (148 Laurel St). In 1911 they were living at Orde Ave, Willington (near the Snowdon family at 1 Orde Ave).
Both Isabella (James' wife) and Margaret (James' mother) died in 1917. Isabella died of Tuberculosis at the City Hospital for Infectious Diseases in Walker, on 6 Sep 1917.
This left James with the three children; Johanna (12), Elizabeth (10) and George Vincent (7). James and children were living at 2 Dawson Square, Tynemouth, at Isabella's death.
James and Margaret Keirven
Sometime thereafter he met Margaret DUDDING. Margaret had previously been married to Thomas Connon, but he passed away in 1914. She had three children with Thomas; William (b. 1911), George (b. 1912-1915) and Charles Alexander (b. 1914). James and Margaret married in Sep 1918 and the two remaining Connon boys became Keirvens.
James and Margaret had four more children between them; Nora (b. 1917 – d. 1918), James (1922), John L (1924) and Robert F (1931). Nora died in Jan 1918, at age four months, of Gastro Enteritis and Convulsions. The last child was born four years after James sailed to Australia so may have been illegitimate. The birth indexes for James, John L and Robert F all show a mother of Dudding and there weren't any other combinations of Dudding and Keirven in Northumberland at that time.
At the time of James' emigration (start of 1927) the family was living at 45 Diamond Row in Walker (this street was demolished in the 30's). The family would have comprised James (48), Margaret, George Vincent (17), William (15), Charles Alexander (13), James (4) and John L (2). Johanna (21) was elsewhere and Elizabeth (19) may have already left.
I have not been able to trace what happenned to Margaret, James, John L after James snr. emigrated to Australia (and the elder boys). Perhaps Margaret and James (snr.) had split sometime after the birth of John L. There is a James Kierven who married Elsie Whalen in Tynemouth in Q1 1973, and who died in Q4 1989 at North Tyneside who is likely to be the same one. There is also a J Kiervan who lived at 17 George St North Shields between 1977 & 1984 (according to phone records) who is probably either James or John; but given James' death record for the area, I'm assuming it's him.
The following Google map shows the various family locations between the 1860's and 1927. Click on a marker to see the details.
View Keirven and Snowdons in Northumberland in a larger map
There are some great photo collections around:
Thanks to Graeme Hanson from St Anthony's in Walker for some of this info.
Migration to Australia
On 6 Jan 1927, James Keirven sailed on the SS Berrima from London to Melbourne Australia (arriving on 14 Feb). He appeared to sail alone, perhaps going ahead to get setup before the rest of the family arrived. On 22 May 1928 three of the boys, George Vincent (18), William (16) and Charles (14), sailed from London co-incidentally also on the SS Berrima. They arrived on 3 Jul 1928. Elizabeth sailed independently via the US. Johanna stayed in England and married (at age 34) in 1940. Margaret must have stayed in the UK with the youngest children.
The boys in Australia
It appears that the family did not stay together when they got to Melbourne:
George Vincent KEIRVEN was hospitalised soon after arriving in Australia and died in the (Royal) Melbourne Hospital on 14 Sep 1929 (age 19). He was suffering from Typhoid Fever and other complications. His address was given as Toorak Mansions in South Yarra.
I can find no trace of William KEIRVEN. There are a number of records for a William CONNON;

There is a set of Australian Electoral Roll records showing a William Veitch Connon, a labourer, in different locations around NSW between 1933 & 1954. The last few show him as a Cook at Concord Repat Hospital. I can find no matching death or other records in NSW.
There is also a shipping record for a Mr William Common returning to the UK from Sydney, Australia on the ship Themistocles, arriving on 30 Sep 1933. His intended address is Ardsheil Rd, Drumoyne, GLASGOW. Perhaps this is a different William.
There are a series of phone book entries between 1972 and 1976 in Blythe, Newcastle upon Tyne, Northumberland between 1972 and 1976.
There is also a death record in Newcastle upon Tyne, Northumberland registered in Jun 1987, with a birth date of 15 Apr 1911. There are no other William Connon's born around that time (anywhere in the UK) so it's our William. He was 76 at death.
Based on his death cert, his widow was Bernadette Rhoda Connon. There is only one matching marriage record in the UK; William Connon married Bernadette R Davies in 1979 in Newcastle (he would have been about 68).

So perhaps he returned to the UK and lived near Newcastle until his death? Perhaps he stayed in NSW for a number of years (past 1954) then returned to the UK?
Charles Alexander KEIRVEN moved up to Tallangatta (North Eastern Victoria) and appears there on the 1936, 37 & 42 electoral rolls. He served in the 2nd AIF as a Private in 2/1 Machine Gun Battalion (his service docs are available online at NAA). After the war he moved to Albury (just over the border in NSW) and was there for the 1949 & 54 electoral rolls. In 1955, at age 41, he married Patricia Joy ROBINSON. They may have had children, but the BDM records don't expose births that recent. He died at Heidleberg (Melbourne) in 1980 (age 66). More details can be found here.
James Keirven in Australia
There are a number of conflicting entries for James KEIRVEN in the various Australian Electoral Rolls covering the 30's and 40's, all listing him as a boilermaker, so either there is a duplication or maybe two James Keirven's. The entries are:
1931 – West Melbourne, 23 Hawke St
1936 – Blackwood (near Ballarat)
1937 – West Melbourne, 401 King St
1937 – (West) Melbourne, 69 Capel St (near the Market)
1943 – (West) Melbourne, 69 Capel St
It's safe to assume the last two entries are the same person. The King St address is only a few blocks away, so there may be duplication?
There is no record of the death of a James KEIRVEN on any of the state indexes. There is a death and burial registered in Melbourne in 1942 for a James KEIRNAN. The death certificate shows a Usual Place of Residence as 69 Capel St, West Melbourne. So this lines up with James KEIRVEN in 1937 & 1942. Given the uniqueness of the name, I think this is the same James. He died of renal failure (Uraenia) on 23rd July 1942. There are no details of relatives or his past life on the certificate, only his age of 63 years (which matches our James) and that he died at the Royal Melbourne Hospital. He was buried in a paupers (unmarked) grave at the Springvale Cemetery (The Necropolis).