This page summarises the Bottrell Family and their migration to Australia down to Ralph Valentine EDWARDS (KIRBY). The following figure shows the ancestors of Ralph Valentine EDWARDS and how the Bottrell family fits in.
Elizabeth May BOTTRELL (mother of Ralph Valentine Edwards) was born on 3 Sep 1871 near Bathurst, NSW to John BOTTRELL and Mary Ann BLACKMAN. She was a middle child of six.
Botrell, Reynolds and Cornwall
The Bottrell family had come from Cornwall in the South West of England in the 19th century. John BOTTRELL was born in 1837 in St Just (in Penwith), Cornwall, England to Christopher BOTTRELL (1805-1874) and Margery REYNOLDS (1807-1863). He was a middle child of six.

View Bottrell Family in Cornwall in a larger map
The Bottrell and Reynolds families had been around Cornwall for a number of generations. This was one of England's most important copper and tin mining areas in the 19th century. Everyone worked in the mines or supported the mining industry. During the mid 19th century there was a boom and by 1861 St Just had a population of almost 10,000.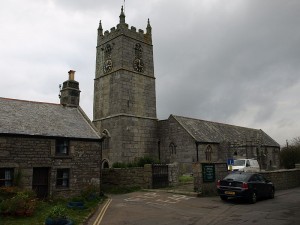 John's BOTRELL's father (Christopher) was born in Sennen near Land's End in 1805 and there are a number of generations of Bottrell's around that area before him. He married Margery REYNOLDS in Jun 1830 in St Just in Penwith; I suspect this was at the St Just in Penwith Parish Church. The Reynolds family seemed to be around that area for a number of generations.
Christopher and Margery Bottrell had six children; Christopher (b. 1830), Thomas Reynolds (1834), John (1837), Richard (1840), Mary Jane (1843) and Elizabeth Ann (1849).
The census records show the following:
In 1841 they were living in St Just (place given as Bostraze). The family consisted of; Christopher (35), Margery (30), Christopher (10), Thomas (7), John (4), and Richard (1).
In 1851 they were living in Madron (Church Town) just north of Penzance. The family consisted of; Christopher (46), Margery (44), Thomas (16), John (13), Mary J (7), and Elizabeth A (1).
Sometime between the birth of Mary (1843) and Elizabeth (1849) they moved to Madron near Penzance. Christopher may have been involved in the railways, although the expansion of the Great Western Railway into Cornwall was after the family left for Australia. His occupation on emigration was Farm Labourer, whilst his son John employed as an Engine Driver.
In 1855 Christopher BOTTRELL came to Australia on the ship Lord Hungerford with Margery (wife), John (son), Mary J (daughter) and Elizabeth (daughter). It sailed from the UK 1 Dec 1854 and arrived in Sydney 109 days later (on 20 Mar 1855). John was 16 on arrival.
Blackman, Whittaker and New South Wales
Mary Ann BLACKMAN was born in 1837 near Bathurst, NSW to Robert BLACKMAN (1811-1876) and Elizabeth WHITTICAR (1818-1865). Robert Blackman was born in 1811 in Richmond (NSW), one of the last of nine children to James Blackman and Elizabeth Harley. James and Elizabeth were both born in Woolwich, Kent (England), then married there (1785). The four eldest children (James b. 1792, John b. 1795, William b. 1801, and Elizabeth b. 1801) were born in Kent. James has spent time in the Royal Artillery at Woolwich (perhaps this is where I developed my interest in Artillery). In 1801 he traveled with his family to New South Wales and was one of the pioneers around Bathurst. There is a very detailed biography of James Blackman online.
The Whitticar family had come to NSW sometime early/mid 19th century, from Dorset and Sussex. In May 1834 Robert Blackman married Elizabeth Whitticar (Whittaker) in Sydney. They had eleven children between 1834 and 1858; Robert (b. 1835), Mary Ann (1837), Elizabeth (1839), Samuel (1845), Harriot (1847), Louisa (1848-1857), Joseph (1851), Henry O (1853), James H (1855), Charles Edward (1858) and John (1858-1858). You can see that some did not survive childhood.
Bottrell and Blackman Families Come Together
Mary Ann Blackman married John Bottrell in 1860 (she was 23) in Sofala, NSW, which is about 45klms north of Bathurst. They had six children; Margery Reynolds Bottrell (b. 1862), John Harley (1865), Edna J (1869), Elizabeth May (1871), Richard Herbert (1878) and Edith Alice (1884). They were living on a property at Mitchells Creek near Sofala. There were a number of locations given for the different children including Hartley (south of Lithgow, birthplace of Richard in 1878) and Sunny Corner (between Lithgow and Bathurst,birht of Edith Alice in 1884). It may be that they moved properties over that time. There are records of gold discoveries in the area at the time, so they may have been involved in that.
Elizabeth May BOTTRELL married Thomas W SMITH at Lithgow in 1890. They had atleast three children; Samuel (b. 1891), Edward Norman (b. 1893) and Thomas (b. 1896). They divorced in 1903 and the boys went with their father. In 1904 she married Henry Edward KIRBY and moved to Tasmania then Melbourne.